Sotogrande : Why is it a great place to live?
.
If you are looking for a lovely coastal area to purchase a holiday home or permanent residence, then look no further. Sotogrande has some of the most beautiful scenery, views and wild life along the coast of southern Spain.
Sotogrande was originally a gated community, however it is now the largest privately owned residential development in Andalusia. The area of San Roque in the Cadiz municipality is well known for its fabulous golf clubs and casino.
Sotogrande is made up of a 25 Km² stretch from the Mediterranean to the foothills of Sierra Almenara. It consists of an amazing background of green landscape, contrasting views of the ocean, the harbour, cork tree forests, green fairways, the Rock of Gibraltar and Morocco. This certainly makes this area a small paradise for the residents and holiday home owners.
What also draws people to Sotogrande and the surrounding villages is the natural wild life. This area has a completely different landscape and its wildlife inhabitants live quite happily amongst the trees and forests. This is clearly a photographers dream and a holiday makers delight.
Sotogrande – an ideal living environment for everyone
Many families chose to live in this area due to the amenities for the whole family. Sotogrande is a cosmopolitan area with excellent all year round weather and infrastructure. Situated 20 minutes' drive to Marbella and 35 minutes to Gibraltar. For travelling in and out of Spain, Malaga airport is a comfortable 1hr 15 minutes away.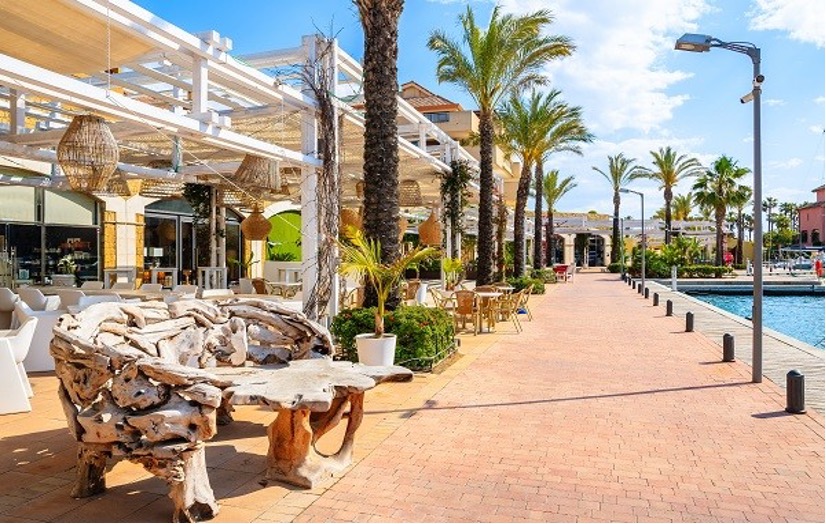 Education – you will find a diverse range of nurseries and schools
International School – Sotogrande International School is categorised as one of the best in Europe
Golf Courses – Top of range golf clubs with wonderful fairways and the well-known La Reserva Club Sotogrande
Shopping – For this reasonably small area, Sotogrande houses some of the best shops in the area. Quaint shops with very original and unique gifts and household items.
Shopping Malls – Sotovila Commercial Centre – Mar y Sol Commercial Hub. Here you will find all you need.
Food Shopping – Supercor, Mercadona, Lidl and Carrefour are all situated in this area, there are also small convenience stores.
Sports Activities – Water sports – Horse Riding – Tennis – Padel Tennis – Martial Arts – Jet Skiing – Sailing – Golf and Polo. There are also private classes for Yoga, Pilates and walking groups.
International Associations – Whilst in Spain you can still join in your social events and international groups.
The Continental Climate
Sotogrande offers sophisticated laid back living in a location with an idyllic climate consisting of mild winters and warm summers with evening breezes. Rainfall is usually in January and February, however it can also rain in November and December, however by the afternoon the sun has appeared and the skies are blue.
Sotogrande enjoys fantastic weather throughout the year with an average temperate of 25º Celsius. Here are the typical temperatures throughout the year.
Winter:  November – February – daily temperatures of around 18° – 20° Celsius with evening tempertures dropping to 12° – 15° Celsius
Autumn & Spring: March – May & October – daily temperature of 20° – 25° Celsius with evening temperatures dropping to around 15° – 18°
Summer:  July – September is the hot weather season – Daily temperatures of 25° – 30° Celsius and evening temperatures of around 20° – 25° with cooler breezes from the ocean.
Eating out in Sotogrande
Meeting up with family, friends, colleagues and business associates is all part of the wonderful lifestyle in Sotogrande. So we have featured some recommended restaurants and bars we are sure you will find relaxing and providing excellent service and quality cuisine.
The KE Sotogrande
Puerto Deportivo, Avenida de la Marina, 11310 Sotogrande, Cadiz.
Avenida Mar del Sur, 1312 Torreguardiaro, Cádiz
 956 79 03 33
956 615 366
Situated on the leisure and sports port at the harbour side of Sotogrande. There is no better place to meet up for a coffee, drinks, tapas or a meal. You can start your day with breakfast, take lunch here or an amazing evening meal.

The KE Sotogrande has unusual and carefully created spaces with gentle blue hues and soft lighting. Wonderful décor with photographs of special guests and memories of the past.

The KE Cafeteria is more than just that, more than a bar and with a menu to suit just about everyone including vegetarians and customers with specific requirements

The typical tradition of tapas in Spain has now moved into a creative art. There is no better way to experience true Spanish cuisine than at this amazing tapas establishment. The Pura Tapa welcomes you with friendly staff and a menu of more than 80 tapas, ranging from traditional to creative gastronomy.

There is a mouth-watering tapa and dessert for every taste and an exceptional choice of wines from some of the most prominent wine regions of Spain.

Most visitors make this their "must eat here" dining event and locals will eat here on a regular basis
Investing in Sotogrande – is it viable?
Rental property is a very popular investment in Sotogrande today. Many retired owners purchase an extra apartment to rent out either on a long term let or holidays lets. This brings in an income and of course the value will eventually rise over the years.
Sotogrande also has such an amazing selection of different properties, you may play golf and want a front line golf apartment, or love the ocean and seek a harbour side or sea facing property. Then again there are lovely villas with beautiful landscaped gardens, but all extremely close to the shores of the Mediterranean.
Why Sotogrande? – the infrastructure is very well prepared. There are all the amenities for permanent residence, family holidays, golf holidays and weekend breaks. Sotogrande has it covered and is certainly a popular place for visitors all year round, so yes, Sotogrande is a very well placed and top class area to purchase real estate.